If you subscribe to HBO (or are lucky enough to have a friend or family member who is more than willing to lend you their HBO Go login information), you may be a fan of the crime drama, True Detective, created and written by Nic Pizzolatto and directed by Cary Joji Fukunaga. Though its first season finale got mixed reviews (*SPOILER ALERT*: see The Daily Beast's positive review and The Atlantic and The New Yorker's not-so-positive reviews), there was undoubtedly some second screen buzz happening all over the web. Even before season 1 wrapped, the hashtag, #TrueDetectiveSeason2, began trending on Twitter, prompting fans to tweet their favorite pop culture pairs to possibly grace our television, computer, and mobile screens.
Once creator Nic Pizzolatto revealed a game changing nugget that season 2 will involve three lead characters and be set in California last week, fans (and just clever people in general) excitedly shared some beloved trios. Thus, rebirthing #TrueDetectiveSeason2, much to my delight. Check out some of my favorites: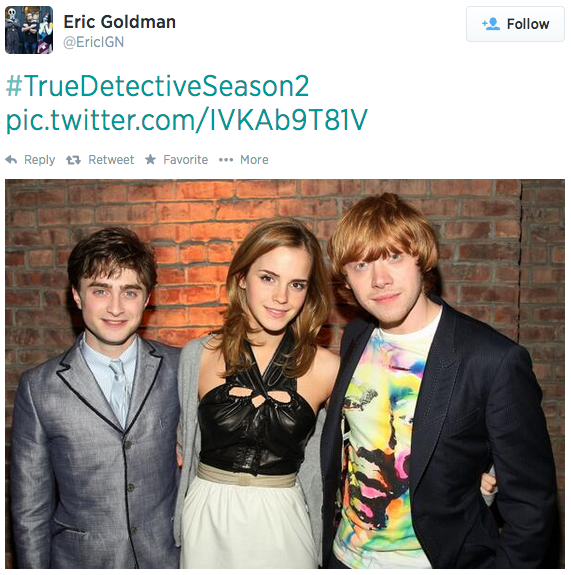 Though the above are, in my humble opinion, Emmy-worthy ideas, how much of this social media chatter actually influences TV writers and their decisions in putting together their next script? From my personal observation, this virtual water cooler helps spread the word about shows, generate earned press, and, most importantly, provides TV producers a fairly novel opportunity to receive feedback and inspiration for future plot ideas from its dedicated viewers (like this brilliant #TrueDetectiveSeason2 trending hashtag). However, instead of seeing the second screen interaction as a content gold mine, most networks, even online streaming providers such as Hulu, view the second screen as an after-thought because they're actually not seeing Twitter and Facebook influencing people to watch certain shows and thus not delivering them the final eyeballs. But I sense a change in the television space as brands in other industries are finding value in considering customer feedback. We'll just have to wait and see what is to unfold and see if television producers heed our suggestions (still anticipating a True Detective x Harry Potter collaboration!).
Who is your ultimate True Detective Season 2 trio? Tell us on Twitter or Facebook!